Asian Tour members are looking forward to another 'Priceless' experience when they return to the historic Delhi Golf Club for the second edition of The DGC Open presented by Mastercard.
As well as confirming the continuation of Mastercard as the presenting sponsor, organisers have announced a 50 per cent increase in the total purse, up from US$500,000 in 2022 to US$750,000 this year.
To be staged over the Lodhi Course from March 16-19 and promoted by Delhi Golf Club, The DGC Open presented by Mastercard will be the sixth leg on the 2023 Asian Tour schedule.
In addition, Nitithorn Thippong from Thailand will return to defend the title he won in thrilling fashion last year after a sudden-death play-off against India's Ajeetesh Sandhu.
Cho Minn Thant, Commissioner & CEO of the Asian Tour, said: "Delhi Golf Club has been the traditional home of golf in India and a popular venue among our members for many years, and they're always excited to be able to go back to such an iconic stage.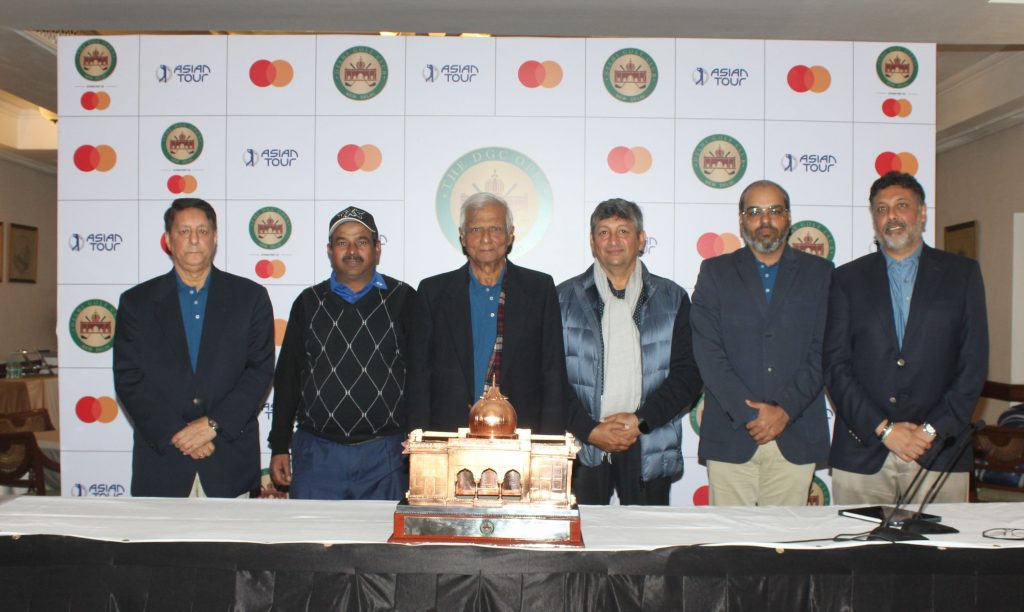 Officials at today's press conference announcing Mastercard's support of The DGC Open.
"We're also grateful to the sponsors for their support. Mastercard were an outstanding partner last year and their slogan 'priceless' is a fitting way to describe their sponsorship of the event."
Last year's inaugural event was especially poignant as it signalled the return of the Asian Tour to India for the first time in nearly 2½ years following the COVID-19 pandemic.
Cho said: "The addition of The DGC Open presented by Mastercard to our 2022 schedule was a massive boost for the Asian Tour and something we'd been working very hard on behind the scenes to facilitate."
As a mark of how popular The DGC Open presented by Mastercard was last year, it was ranked third in a poll by players voting in the best tournament category.
"As the home of Indian golf with such a rich history and legacy, Delhi Golf Club has always believed in promoting excellence in golf and when we embarked on the journey of constituting our own Asian Tour event last year, it was a step in that direction," said KK Bajoria, President, Delhi Golf Club.
"It is really exciting to see The DGC Open presented by Mastercard growing and becoming bigger in its second edition with increased prize money. I would like to thank Mastercard India for their continued support and Asian Tour for being wonderful partners."
Added Gautam Aggarwal, Division President, South Asia, Mastercard: "Mastercard's philosophy is to engage with cardholders' passions the world over. Sports such as golf have passionate followership in India. We are privileged to be the sponsor for The DGC Open for the second year, and we look forward to an excellent association with the iconic club."
Last year Nitithorn defeated Sandhu on the first hole of the play-off to claim his maiden Asian Tour title.
"To win on the Asian Tour … I've been waiting a long time for this," said 25-year-old Nitithorn, who led the chorus of approval for the overhaul of the Lodhi Course undertaken by nine-time Major champion Gary Player with a focus on revamping the greens and reshaping bunkers.
Comparing the course to how it was seven years earlier on his previous appearance there, Nitithorn said: "The new greens are awesome. I like the many slopes … sometimes a bit difficult to read, but the green condition is really good."
After ending in a tie for sixth, Indian Shiv Kapur, a four-time Asian Tour champion and winner of the 2017 Panasonic Open India at DGC, succinctly summed up the challenges of the venue.
"On a course like this lined with trees and bushes, there's no margin for error. One loose shot here is two, three shots gone and the big numbers can really hurt you," he said.